6 Tips for New Runners
Running is a great sport or hobby for people of all ages. It can be done almost anywhere and requires minimal equipment — just a good pair of shoes and some training clothes! It can also be done year round if you're willing to embrace cold temperatures or use a treadmill! To help you get started, I'm sharing 6 tips for new runners that you can choose to implement as you start your running journey.
I started running regularly after college, but many people don't start running until later in life. Two of the best things about running are that it can be a lifelong activity and you can start running at any age. When I first met my now husband, I remember him saying "You just ran 7 miles? Wait…without stopping?" He was certainly not a runner back then, but I've somehow convinced him to take up the sport and now we are working our way through running 13.1 miles in all 50 states and we always run together!
New runners or runners who are returning to the sport after some time off may be a bit apprehensive to get started, but following some of the tips below can help ease you into the sport!
Tips New Runners Should Know
Embrace the walk/run
Go slow!
Consistency is key
Get a proper pair of running shoes
Don't check your watch
Play around with running for time vs. running for distance
1. Embrace the walk/run
Be patient — it takes time to build up endurance, and alternating between walking and running is a great way to go about doing it! As you gain fitness, you'll be able to make your running times a bit longer and your walking times a bit shorter. This is a great way to train that runners of all levels can use in their training.
2. Go slow!
There is NOTHING wrong with running slowly or simply running for enjoyment and movement instead of trying to run a certain pace. You don't have to be the fastest and you certainly don't have to run your very fastest every day. Slower runs are one of the best ways to build up your endurance, which is so important for runners looking to build up mileage. Always remember — running is running, no matter how fast or slow you go.
3. Consistency is key
Especially at the beginning, running is going to be tough, but like many other things, the more you do it, the easier it gets. Building fitness is much more challenging than maintaining fitness. When you run consistently your body becomes better able to adapt to your training and you'll find your runs start to feel a bit easier. If you run once or twice but then take another week or two off, you're likely to find it equally as tough next time you lace up.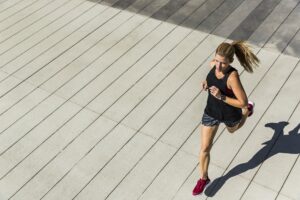 4. Get a proper pair of running shoes
Heading out for a run in shoes that you've had for 4 years and are all worn through on the bottom is probably not the best way to go. I would suggest visiting a running shoe store to have a professional assess your foot strike and fit you with proper running shoes. Investing in good shoes may help prevent injury as well.
5. Don't check your watch
Focus on how you FEEL when you're running by tuning into body cues such as heart rate, breathing rate, or if you have any extra muscle tension (check into your traps, fists, jaw, etc.). This is a great way to improve the mind/body relationship and learn to listen to your body. I've also found that paying attention to my body's cues helps me to focus and be present during a run.
5. Play around with running for time versus running for distance
The thought of running for 20 minutes may seem incredibly daunting compared to thinking about running 2 miles. Or maybe the opposite is true — you may prefer to view and plan your runs based on mileage instead of time. I personally prefer running for distance and letting the time fall where it may, but I know many people who plan their runs based on minutes. Test out each way of training to find out your preference.
Now get out there!
Starting a
running program
is SO exciting! Whether you intend to run for fun, compete in races, or you're somewhere in between, you're heading in the right direction. The first step out the door is the toughest one, but you'll be hard to stop once you get going!
If you're still feeling a little lost and unsure where to begin, working with a running coach could be a great option for you. Check out my training plan and
coaching options
to see if there might be a good fit for you and for more running tips, follow along on
social media
— I'd love to connect with you!