Things to Love about Running
I started running casually in 2016 after my collegiate rowing career ended, then picked it up more seriously in 2018 when I decided to train for my first marathon. Since then, I've found that there are so many things to love about running! If you're considering picking up the sport and need a few extra reasons to get started, look no further.
Some of my favorite things about running (in no particular order) include:
Races
The running community & social running
Return on investment
You choose the intensity
Anyone can be a runner
Health benefits and enjoyment
The runner's high
It's a year-round activity
Progress and training plans
Run-cations
My favorite things about running
Races
Race day is where all that training pays off! The race day environment is unlike anything else. There is a sense of nervous excitement in the air as the runners gather before the start line and the spectators along the course provide excitement and encouragement. After crossing the finish line you can wear your medal with pride and display it at home for years to come.
The running community & social running
The running community is AMAZING. I've met people from all over the world through the online running community and have even met a few of them in person! It's such a supportive, encouraging, and dedicated community of people from all backgrounds and cultures. In-person running clubs allow for another community and social aspect— you can choose to run with friends or family members or make new friends through a run club! Running may be an individual sport, but I believe much of the success in running comes from the support systems that surround us.
Return on investment
What you put into running is what you get out of it. If you put your time and energy into training AND recovery, then race day will most likely go more according to plan than if you trained sporadically or not at all.
You choose the intensity
Some people may choose to simply run for fun and recreation and may or may not choose to participate in races. These runners may be more casual about training, which is totally okay! There is nothing wrong with easy running all the time or even running by a sporadic schedule if it aligns with your goals. Other people may choose to stick to a consistent training schedule, to push themselves harder in workouts, race competitively, or create detailed plans to beat their previous PRs. You can pick how intense and how "serious" this sport is for you!
Anyone can be a runner
Do you run? Congratulations, you're a runner! Running is a sport for people of all ages and you can start running in any phase of life. It doesn't matter how slow or how fast you go or how often you run— if you are out there running, you're a runner.
Health benefits & enjoyment
There are countless health benefits of running, such as increased cardiovascular fitness and endurance.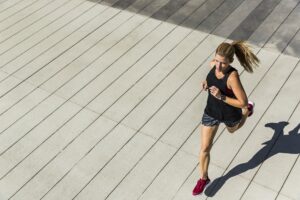 The more regularly we train, the more efficient our bodies become (for example, you may notice a decreased resting heart rate) and we can build up our endurance over time by running by (safely) increasing mileage. (Note: It is typically recommended that novice runners follow the 10% rule — increasing mileage or minutes run by no more than 10% each week to help avoid injury.) Aside from many health benefits, running also brings happiness, mental clarity, and is something to do for enjoyment! For me, the mental health benefits I get from running have become more important over the years, and especially throughout the pandemic.
That runner's high
Running makes you feel SO GOOD! I always feel more energetic, happy, and productive after finishing a run. There's a sense of pride and accomplishment that comes along with running. Yes, there are sometimes days when the absolute last thing I feel like doing is going for a run, but I always feel better once I take that first step.
It's a year-round activity
Running has no specific season and though many people prefer to race in the spring and fall, you can typically find races at any time of year, especially if you're willing to travel. Sure, running is likely to be more enjoyable when the weather agrees, but you can still run in conditions that aren't optimal as long as you're dressed appropriately and are prepared.
Progress and training plans
It's SO rewarding to see progress in training! For me, this progress often brings about a sense of accomplishment and comes in response to following a training plan leading up to a race. Everyone has different goals and progress may look different to everyone. Progress may mean hitting a PR in a race for some people, but for others it might mean sticking to their training plan for a single week. Everyone's running journey will look different!
Run-cations
Like a vacation, but with running. I can think of no better way to explore different towns, states, and parts of the country than by running through them. Some people take vacations to relax (which is also great!) — my husband and I take them to run! Most of our trips nowadays incorporate a half marathon to help us work toward our 50 States challenge and we love experiencing race day in different places.
There really is no feeling like that post-run feeling! What are some of your favorite things about running?
*This post was adapted and repurposed from my old running blog, HappyJoRuns.